LIFE! Are you one of the millions of people who are desperately trying to figure it out?
Have you ever asked: "why did that happen?" Or, "why does (this or that) NOT happen?
Or maybe in a quiet moment, are you being harassed by a little voice that is saying…." something is missing" or…." is this all there is?"
Welcome. There is no one who has ever lived who has not heard this little voice at some time in their lives.
But be of good cheer. There IS an answer to all of the above.
The answer….is a person….an itinerant teacher and prophet from a backwater town in Palestine who in three short years changed the world. HIS name is JESUS.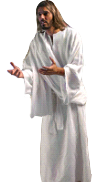 *HE said, "If you will get to know me and believe that I came to show you how to live this life but also how to live it more abundantly….and then believe that I am who I say I am, then my Father and I, we will come and make our home with you and we will answer every question you have about life."
OH! REALLY? Hmm….
*(Matthew 6:31-34; 11:28,29; Luke 10:27,28; John 7:17; 10:10; 14:15,16 & 23; 15:10)