Do you have a favorite item of clothing….a tie, a scarf, a blouse? Something you have selected as part of an ensemble that is just perfect for that outfit?
I have a tie that goes perfectly with a certain outfit I enjoy wearing and at a dinner party recently, I happened to spill a couple of drops of red wine on it. I took it to my trusty dry cleaner guy and asked him if he could get the spot out.
He assured me he could but that I would have to leave it with him. Knowing that dry-cleaning sometimes can ruin a tie, I asked him if he could just get the spot out without having to clean the whole tie.
"No", he said, "that could really damage the tie. You'll have to leave it with me.
When we think of sin, how many of us tend to think of individual specific sins we have committed? Sins which we feel the need to confess…sins we need to repent of and for which we seek God's forgiveness.
No. God is not a 'spot remover'. Jesus didn't die to remove a few 'sin spots'. He came and He died to remove…SIN (John 1:29).
MY SIN? YOUR SIN?
MY SIN, YOUR SIN is the same as Eve's sin. It's who is going to be in charge of me? Is it ME, or GOD? Am I going to be my GOD, or am I going to allow GOD to be my GOD?
Have I put ME in charge of me or have I allowed GOD to be in charge of me.
And just what does that mean?
If I am going to be in charge of me, then I am not going to be subject to anyone but me. Compared to God, I will have a fool in control of me. I will do what I want to do, go where I want to go and live my life as I please. No cleaners for me. If I get dirty, I just keep on getting dirty until such time that the dirt overwhelms me and I die.
If I am going to allow God to be in charge of me, it means accepting His invitation in Matthew 11:28 & 29; Like the tie, once I realize I need help staying clean, I have to leave myself with Him. I have to get to know Him, walk with Him, trust Him, rest WITH Him and then rest IN HIM.
It means I have to be willing to surrender myself to Him…all of me. I have to trust Him with me…all of me…believing that He will turn me into a brand new garment, free of any spot or blemish.
But unlike my trusty dry-cleaner guy, HE will keep me clean…FOREVER.
"Hey, wait a minute! Forever? How is that possible, and at what cost?"
Well, this is the neat part.
With His blood. With the blood He shed on my behalf on the Cross of Calvary. (Hebrews13:12)
If I am walking as I should walk and yet, in spite of my best efforts, I should get a spot on me, His blood cleanses it. (1 John 1:7)
And, the cost?
It cost Him everything.
Let us never forget these words from the Prophet Isaiah: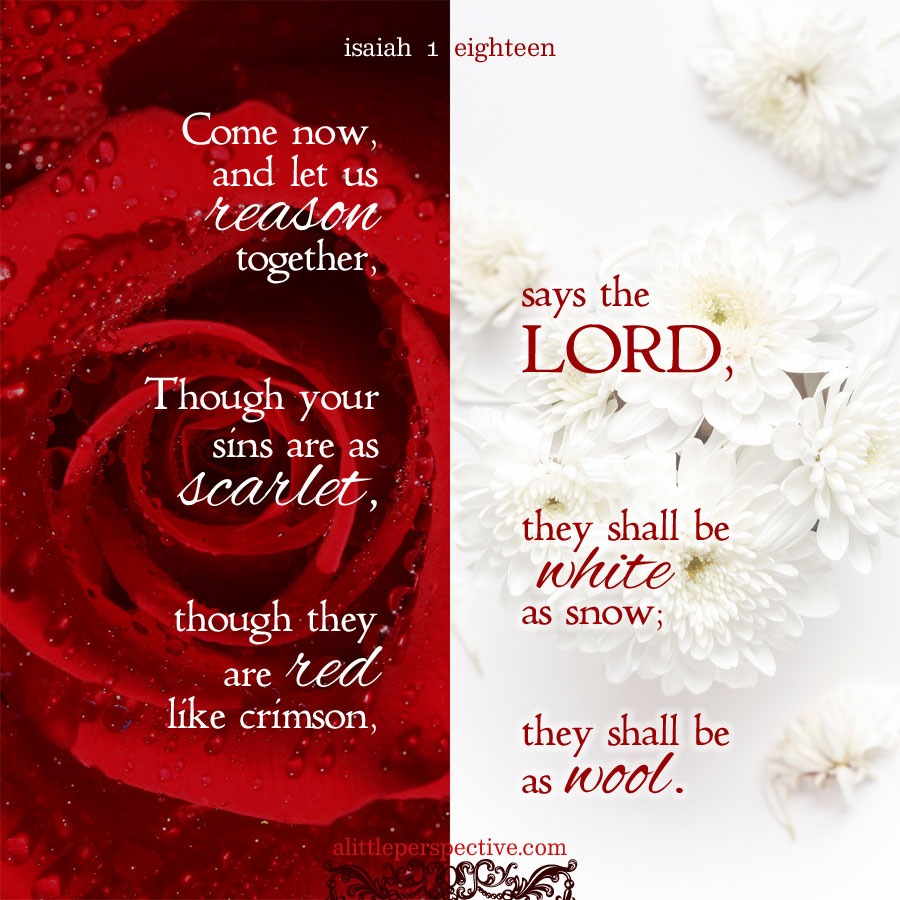 "Though your sins are like scarlett, they shall be as white as snow. Though they are red like crimson, they shall be as wool.
Nor, the words of this immortal Hymn from Elvina Hall and John Grape:
"Jesus paid it all, all to Him I owe. Sin has left a crimson stain, He washed it white as snow"
OH! REALLY? Hmm…